QUALITY POLICY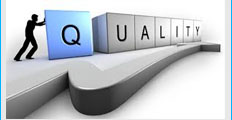 To achieve the full objectives of the total quality policy, Quality checks have been introduced at various work centers of the company.
MORE

We assure our clients of scheduled-delivery of orders. We adopt innovative approach and techniques, flexible production and a reliable supply network to ensure prompt delivery of orders within the stipulated time frame and as demanded by our customers.
| | |
| --- | --- |
| | Our Mission |
| | |
| --- | --- |
| Our mission is to provide high quality products that combine performance with value pricing, while establishing a successful relationship with our customers and our suppliers. To constantly strive to meet or exceed our customer needs and expectations of price, service, and quality. To stay ahead of the competition by quality products based on the needs of our customers and market demand. Our vision is to maximize customer value through world class manufacturing practices: continually striving for excellence in the products we provide. Our vision is to lead by example through a commitment that empowers the organization at every level to strive for the highest levels of quality, customer care and suppliers value. | |
| | |
| --- | --- |
| | Our Vision |
Our vision is to pursue and consolidate our position of leadership through passion, innovation and teamwork.
| | |
| --- | --- |
| | All our businesses are targeted at maintaining the highest levels of environmental integrity and cost-competitiveness. |
| | Our people are our biggest resource. We invest in them and in their development so as to enable them to meet new challenges in an ever changing environment. |
| | We produce Lead Products keeping in mind our customer's needs and satisfaction and try to give them value for money along with timely and courteous service. |
| | |
| --- | --- |
| | Our Values |
Our mission is to maximize wealth creation for all the stake-holders of the company through supply of cost effective products, services and innovative solutions through integration of people, technology, processes and business systems.
| | |
| --- | --- |
| | Uncompromising commitment to Quality and Performance Excellence |
| | |
| | Constant Innovation |
| | |
| | Committed delivery schedule |